Many companies hire outside firms to handle their bookkeeping. There are many causes for this as well as numerous advantages. However, not all bookkeeping companies are the same! How can you determine whether outsourcing your books is a good idea for your company? What exactly is included in outsourced bookkeeping services? What is the price of a bookkeeping service? Is it possible to get by with just using bookkeeping software? Continue reading to find out everything you need to know about outsourcing your bookkeeping and whether it's a good idea for your business.
What Is Outsourced Bookkeeping?
When a business employs an outside person or company to handle its bookkeeping—recording financial transactions and creating financial statements like balance sheets and profit and loss statements—it is known as outsourcing bookkeeping. For instance, it makes sense that you might think about outsourcing your bookkeeping services if you're an accountant who needs to concentrate on expanding your practice so that you can spend more time working with clients.
An outsourced bookkeeper can add value by offering specialized knowledge (such as QuickBooks) and providing reports directly into tax software, in addition to saving time and money by avoiding hiring full-time employees. Bookkeepers who are outsourced can be hired on a contract basis or as full-time employees.
Does Outsourcing Your Books Make Sense for Your Business?
If you have a small business and want to outsource your books, you have the option of outsourcing bookkeeping. If you lack the time or the accounting expertise to handle the bookkeeping yourself, outsourcing can help you save time and money while ensuring the financials are accurate.
If no one on staff has experience in bookkeeping, it might be wise for your business to hire someone who does. Additionally, you might want to think about hiring an outsider who is less familiar with your company's operations and is therefore better able to perform their duties impartially.
Who Outsources Their Bookkeeping?
Particularly among small and medium-sized businesses, outsourcing bookkeeping is becoming more and more common as a business strategy. Outsourcing your bookkeeping makes sense for a number of reasons, including the ones listed below:
Skilled bookkeepers with specialized knowledge. Your business might need services that can only be provided by experts, like reconciling complicated financial statements or creating financial reports for internal or external use. To make the most of your outsourced bookkeeping service in these situations, consider hiring someone with experience managing tasks similar to yours.
Companies that are expanding. Let's say your business is expanding quickly and has significantly increased the number of transactions over the last year or two. If so, it may be time to think about outsourcing crucial accounting tasks that consume an excessive amount of your team's time and resources. These could include processing payroll, preparing taxes, and performing other administrative duties necessary to successfully run a successful company without compromising quality control standards.
What Bookkeeping Services Should You Outsource?
Several different services, such as the following, can be offered as outsourced bookkeeping:
1. Importing financial data from your bank and credit card statements, payroll records, invoices, and other sources (and with a bookkeeping service like ProfitsView, we integrate with the programs you already use)
2. Sorting and reconciling those transactions will help you make sure everything is in order.
3. Keeping track of expenses and income that has not yet been recognized (typically accounts payable and accounts receivable management).
4. Ensuring that your books are accurate and current at all times.
5. Delivering precise financial statements at month's end, including a balance sheet, a monthly or quarterly profit and loss (income) statement, and a statement of cash flows.
6. Providing you with an understanding explanation of those financial statements and other aspects of your bookkeeping.
7. Granting access to investors, tax preparers, and anyone else in need of access to complete and accurate financial reporting.
8. You must confirm the information with the outsourced bookkeeping service you have selected. Before signing up, it is important to make sure that your expectations of their offerings are in line with theirs.
How Does Outsourced Bookkeeping Work?
Although the procedure for outsourced bookkeeping services may differ depending on whether you hire a human-only service, an independent professional bookkeeper, or a hybrid bookkeeping service, it is generally simple.
To begin with, you'll enter into a contract with the business and pay them a set monthly fee for their services. The outsourced bookkeeping company will then work with your company to comprehend your needs and objectives. Then, each month or every three months, they'll give you a report outlining your financial performance. After that, you'll have a chance to make any necessary adjustments before getting the following report, and so forth. You can get in touch with them for assistance if there is ever something you'd like explained or don't understand.
When you work with a service like ProfitsView, here's how outsourced bookkeeping works: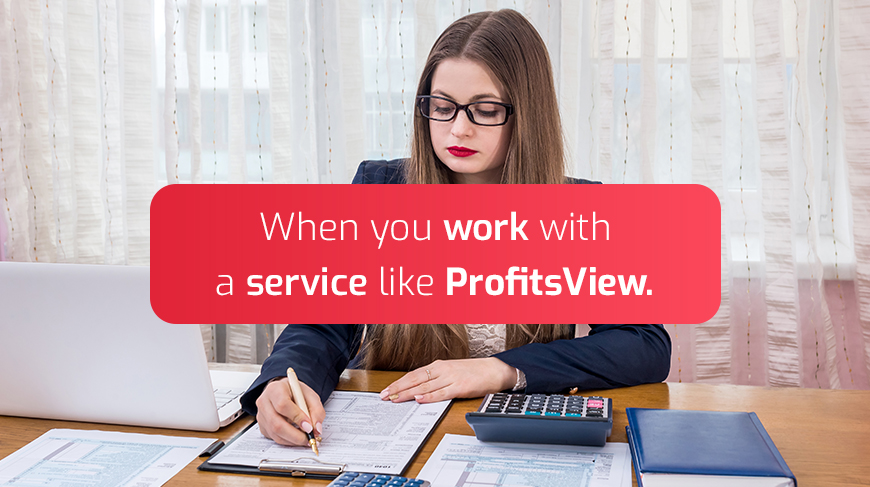 Step 1: You will work with your assigned account manager to set up integrations and link all the financial accounts and tools your company currently uses. Your financial information is then reliably and automatically retrieved from all sources and entered into QuickBooks Online. Since it happens automatically, you can stop worrying about uploading and downloading PDFs. 
Step 2: The bookkeepers record, classify, and reconcile transactions.
Step 3: We send you clear and accurate financial statements at the conclusion of each month.
Your dedicated account manager at Profits View is always available to help and respond to your inquiries.
What Are the Advantages of Outsourcing Bookkeeping Services?
The first thing that comes to mind when people consider outsourcing their bookkeeping is cost-effectiveness. Some businesses, particularly small ones, cannot afford to employ a full-time bookkeeper or an internal accounting department. An outsourced bookkeeper can assist your business with its bookkeeping without incurring additional costs because they have experience working with various business models and their systems. The benefits of outsourcing bookkeeping services are as follows:
Reduced costs: By outsourcing bookkeeping services, you can cut your spending by up to 50%. Because you won't need to worry about paying for software you don't need or hiring a full-time bookkeeper, you can concentrate on expanding your company and improving its operations rather than handling financial paperwork or documentation.
Productivity will increase if your staff is not burdened with time-consuming tasks like preparing reports, reconciling accounts, and calculating taxes. Additionally, since bookkeeping employees frequently struggle to find stable employment due to low wages, as an employer you may find it simpler to attract top talent if you include this benefit in their compensation package.
What are the Costs of Outsourced Bookkeeping?
Many businesses can afford to outsource their bookkeeping, but the exact costs will vary depending on a number of factors. What kind of booking service you require and how much time you are willing to spend keeping tabs on your bookkeeper should be your first priorities. For instance, hourly rates should be acceptable if your business only has basic requirements and is willing to function without a designated point person for finances.
On the other hand, it might be worthwhile to pay more up front if you have complex needs or want someone who can assist with more than just mathematics (such as tax planning), as they will likely provide ongoing services at a reduced rate over time. Additionally, while some businesses base their prices on the quantity of transactions, others charge by the hour. Finally, there is still room for variation among those who don't do either because overhead expenses like office space or equipment rental fees vary from region to region.
Typically, it's safe to assume that the monthly cost of your outsourced bookkeeping services will fall between $500 and $2,000 per month. Cost estimates are broken down by type of bookkeeping services in the table below:
Generally speaking, the cost of outsourcing bookkeeping services will increase with the complexity of your financial situation.
Outsourcing Your Bookkeeping To Grow Your Business
You may be able to expand your business by using a number of benefits from outsourcing your bookkeeping. First, by outsourcing, you can focus on the aspects of your business that are most important, like sales and marketing, while saving time and money on other areas of the business. Because it frees up resources needed to launch new products or services or expand into new markets, this helps you now and positions you well for growth in the future.
Do you need a lot of ongoing support for your business? Find out if your bookkeeping outsourcing company offers training and support programs if so.
Exist any specialty services that only a select few providers would provide? Find those who specialize in offering those kinds of services, for instance, if payroll processing interests you but isn't a top priority for the majority of outsourced bookkeeping companies in existence. By doing this, you can determine exactly where their areas of expertise lie and whether or not they will be able to deliver the high-quality service that would be most advantageous to your company.
What Are the Best Outsourced Bookkeeping Companies?
So how do you choose the best outsourced bookkeeping firm for you? Your outsourced bookkeeping company should be able to do a number of things, but they must be trustworthy above all else. The last thing you want to happen to your finances is for them to get lost due to poor organization or communication. Additionally, a quality external bookkeeping service will:
Recognize your requirements as a client.
Clear communication about their offerings and pricing should be made.
Keep you updated on deadlines for taxes, payroll, etc.
Conclusion
There are numerous benefits to outsourcing your bookkeeping, which is a viable choice for many businesses. By outsourcing your bookkeeping, you can devote more time to other areas of your business. You can save money by working with an experienced business that offers a range of bookkeeping services. Finding the best company for your needs is crucial in this situation.
To free up more time for your attention on more significant tasks, it is always a good idea to outsource your bookkeeping. Find out more about our tax and bookkeeping services, or get in touch to schedule a 1-on-1 consultation with a professional.