As businesses grow, they require more comprehensive financial management, and this is where Outsource CFO service comes in. A Chief Financial Officer (CFO) is responsible for overseeing a company's financial operations and ensuring that they align with the business's overall strategy.
While some businesses may opt to have an in-house CFO, outsourcing CFO services has become increasingly popular in recent years. Focusing on the same, here in this blog, we will explain the seven ultimate reasons to outsource CFO services in 2023.
What is an Outsourced CFO?
An outsourced CFO, also known as a virtual CFO, is a professional financial expert who provides financial management and strategy services to businesses on a part-time or project basis. These experts work remotely or off-site to manage the business's finances on a contract basis to manage the financial affairs of a company.
Their work includes providing essential financial services such as managing the company's budget, cash flow, financial reporting, and analysis. An outsourced CFO offers the same services as an in-house CFO but without the additional costs associated with hiring a full-time employee.
Outsourced CFOs typically have experience working with a variety of businesses, and they can provide valuable financial advice and guidance to business owners.
Therefore, rather than hiring a full-time Chief Financial Officer (CFO), businesses can leverage the expertise of an outsourced CFO to manage their financial affairs and make informed decisions.
7 Reasons To Outsource CFO Service in 2023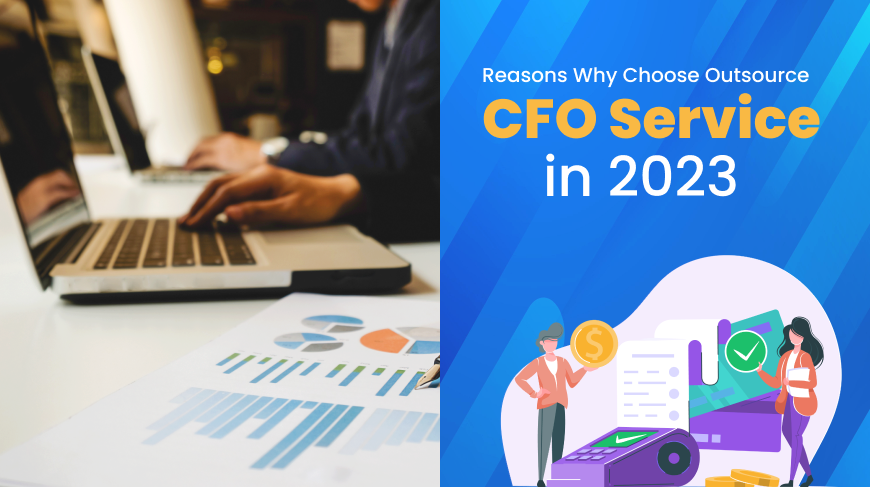 1. Helps in Saving Hard Earned Money –
When you Outsource CFO service it becomes one of the cost-effective ways to manage financial services as businesses can avoid the costs associated with hiring a full-time employee.
It can save businesses up to 50% of the cost of hiring a full-time CFO who can avail salaries, benefits, and other overhead expenses associated with hiring a full-time CFO.
This is because outsourced CFOs typically work on a part-time or project basis, benefiting companies by reducing overhead expenses.
2. Improved Financial Reporting and Expert Guidance-
When you hire Outsourced CFOs they can help your businesses streamline the financial reporting processes and provide accurate and timely financial information. This can help businesses make informed decisions based on real-time financial data.
They can also help you manage your cash flow, ensuring that you have enough funds to meet your financial obligations and invest in your business.
Also, by provides objective advice, which can be particularly valuable when making difficult monetary decisions. They ensure business fiscal growth remains constant.
3. Expertise in Forecasting & Networking –
When you outsource CFO service, the CFO experts bring a wealth of experience and knowledge to the table. This can include expertise in financial analysis, financial system strategy & design, risk management, and tax planning, among other areas.
Being knowledgeable and dynamic in terms of knowledge they can work for a range of clients at a time. This directly helps them to make rich networks with successful businesses.
When in need these experts may help you in guiding and expanding your business by leveraging their knowledge.
They also possess extensive leadership qualities and are competent in executing well-planned financial decisions. This helps them in forecasting the budgets and financial numbers of the company.
4. Scalability and Access to the latest technology –
The part about outsourcing CFO service is they know what going on in market trends and what software can help businesses manage finances. They use the latest technology and financial software so you don't have to worry about investing in expensive tools and training.
With their knowledge of the latest technology, they can help businesses scale financial management and strategy services as their needs change over time. This can include providing more or less support depending on the business's growth trajectory.
They can even be scaled up or down as per business needs. They can provide financial support during periods of growth and can be scaled down during periods of low activity.
5. Expertise in Time Management & Financial Planning –
When you hire an outsourced CFO they will provide valuable insight and expertise to help businesses develop and execute financial plans. This can include forecasting, budgeting, and cash flow management to ensure long-term success.
Not only this, but they also offer their clients ample time to take care of their financial work. So, their clients can easily focus on other important business activities, such as growth and development of business.
They help in raising finance by bringing a network of financiers to whom they can introduce their clients' businesses. They are great communicators, thus they carry just positive conversations about their clients' finances and accounts with the investors. Assisting in business structuring, providing financial statements, and bringing reputation and professionalism.
6. Performs Strategic Analysis & Mitigate Financial Risks –
If you want to set financial goals and work on strategy development, then taking CFO services can turn out beneficial for you.
Since these experts consider excellent strategy-making expertise they perform great strategic analysis, like for threats or risks.
These services prove to be crucial for business and overcome competitors. This assistance of Interim CFO services can help in the remarkable growth of the business. By helping in mitigating financial risks, and identifying potential issues they predict and remove any problems thereafter.
7. Expert Guidance To Mergers & Acquisitions –
Outsourced CFOs can provide valuable guidance to companies engaged in mergers and acquisitions (M&A) by offering expertise in financial analysis, due diligence, deal structuring, and integration planning.
They can evaluate the financial statements and other financial information to help determine the value of the companies, assess the overall financial health, and identify potential risks. They can also perform due diligence to ensure that all necessary legal and financial documents are in order.
Once the M&A support is complete, the outsourced CFO can help with the integration process by developing a financial plan for the newly merged company, implementing new accounting systems, and ensuring that all financial reporting is accurate and up-to-date.
In A Nutshell
Overall, an outsourced CFO can provide expert guidance throughout the entire business process. From initial due diligence, strategy making, and cost analysis to post-merger integration. They can help ensure that all the work is performed in a way that maximizes the profit value of the business for long-term success.
If you're looking for accounting, individual and business taxation, and virtual CFO services that will maximize your profits? Look no further than ProfitsView! Get expert insights and support to make informed decisions and achieve long-term success. Our team of financial experts can provide you with the financial insights and support you need to grow your business.
Contact us today to learn more about how we can help you achieve your financial goals!